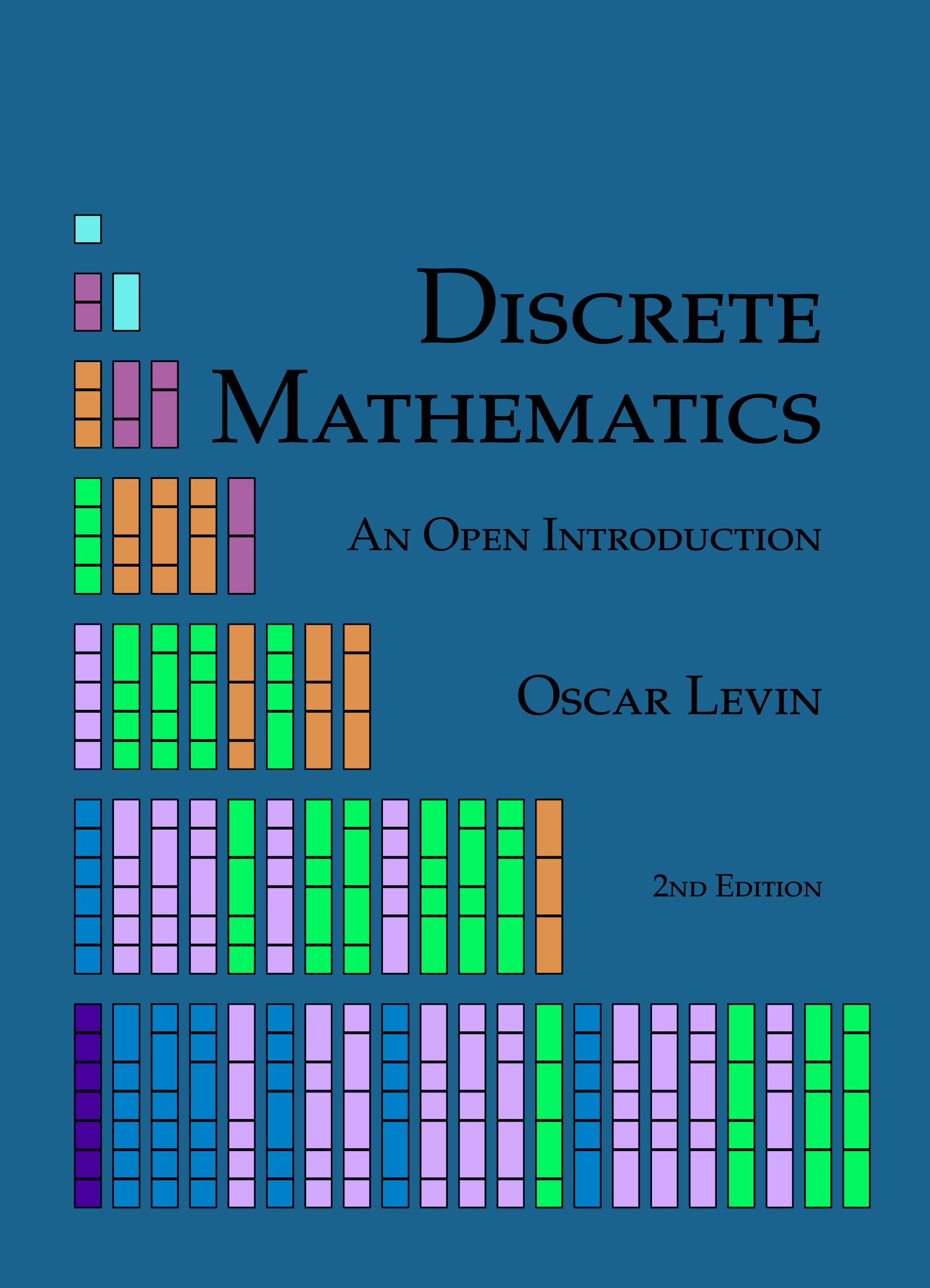 NOTE: A new edition is now available! This page describes and links to the 2nd edition. For the new edition, see the 3rd edition site.
Discrete Mathematics: An Open Introduction is a free, open source textbook appropriate for a first or second year undergraduate course for math majors, especially those who will go on to teach. The textbook has been developed while teaching the Discrete Mathematics course at the University of Northern Colorado. Primitive versions were used as the primary textbook for that course since Spring 2013, and have been used by other instructors as a free additional resource. Since then it has been used as the primary text for this course at UNC, as well as at other institutions.
A second edition is now available. You can download it for printing or tablet use, or browse the interactive online version. In addition to rearranging some content and adding exercises, the new edition is available as an interactive website, thanks to the PreTeXt project (previously called Mathbook XML).
The previous version (Fall 2015 edition) will remain available. If you downloaded this edition prior to July 15, 2016, grab a new copy as I have corrected quite a few typos.
I intend to continue improving the text, and very much encourage anyone using it to email me their feedback and suggestions. If you decide to use the book in your course, please let me know.
Thanks to everyone who has reported errors and typos in the text. I corrected many errors over Summer 2017, and recorded the consequential ones for anyone who is using an older version in the Errata list, which also contains a few errors discoverd since then.
Download or Purchase
This is a free textbook. You can dowload the 2nd edition to read on your computer or tablet. If you want other editions (including one suitable for two-sided printing), please see the downloads page. There you can also find information about obtaining the LaTeX source code in case you want to remix the book.
There is also an inexpensive print edition available through Amazon.com. This should be quite a bit cheaper than printing the book yourself.
About
This text was written to be used as the primary text for the class Discrete Mathematics (Math 228) at the University of Northern Colorado. The course serves as the role of a transitions course (introduction to proof), as well as an introduction to topics in discrete mathematics. While we have a few students each semester who will go on to study computer science, pure mathematics or applied mathematics, the majority of students are studying to be elementary or secondary math teachers. For this reason, most of the standard discrete textbooks are not appropriate for us. For many years we used Discrete and Combinatorial Mathematics by Richard Grassl and Tabitha Mingus. This is a very nice book in many ways (Grassl taught at UNC) but the print-on-demand publishing was expensive for students and some sections needed updating and (as I saw it) rearranging.
While the book began as a set of lecture notes, it now contains a number of features that should support its use as a primary textbook:
363 exercises, including 233 with answers or full solutions, as well as 130 more involved problems suitable for homework.
Investigate! activities throughout the text to support active, inquiry based learning.
A full index and list of symbols.
Consistent and (hopefully) helpful page layout and formatting (i.e., examples are easy to identify, important definitions and theorems in boxes, etc.)
License

Discrete Mathematics: An Open Introduction by Oscar Levin is licensed under a Creative Commons Attribution-ShareAlike 4.0 International License. You are free to download, use, print, and even sell this work as you wish to. You can also modify the text as much as you like (create a custom edition for your students, for example), as long as you attribute the parts of the text you use to the author.
If you are interested in using parts of the book combined with another text with a similar but different license (GFDL, for example), please contact me to get permission to modify the license.